---
---
Y-Cables
There seems to be some confusion over the function of Y-cables. Let's see if I can fix that. :-)
Function:
A y-cable simply provides 2 jacks/plugs from a single input jack/plug. It does NOT send half of the signal to each of the outputs. It sends whatever signal it receives to both of the output connectors. The diagram below shows some common configurations.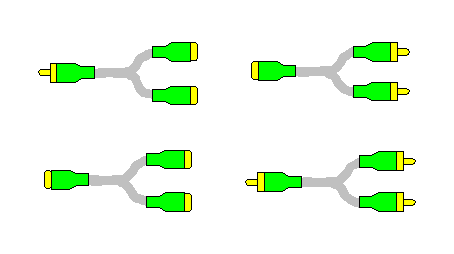 Construction:
In a y-cable, all 3 center conductors are connected directly together and all of the shields are connected together. It contains no resistors or capacitors.
Example:
The diagram below shows how the left signal is sent to both channels of the blue amplifier and the right signal is sent to both channels of the green amplifier. The blue amplifier amplifier would drive the speakers on the left side of the vehicle. The green amplifier would drive the speakers on the right side of the vehicle.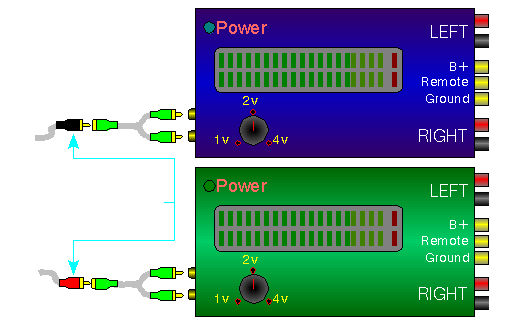 ---
Things you shouldn't do:
A y-cable should NOT be used to connect 2 outputs from a head unit, EQ, or other device. It cannot be used to mix 2 signals together to provide a single non-fading output. If 2 outputs are connected together (via a y-cable) and they don't match EXACTLY, one output will be trying to drive the other to match itself. This will likely not damage anything but WILL likely cause the output signal to be distorted.
---
You May Be Interested in My Other Sites
This site was started for pages/information that didn't fit well on my other sites. It includes topics from backing up computer files to small engine repair to 3D graphics software to basic information on diabetes.

This site introduces you to macro photography. Macro photography is nothing more than the photography of small objects. It can take quite a while to understand the limitations associated with this type of photography. Without help, people will struggle to get good images. Understanding what's possible and what's not possible makes the task much easier. If you need to photograph relatively small objects (6" in height/width down to a few thousandths of an inch), this site will help.

If you're interested in air rifles, this site will introduce you to the types of rifles available and many of the things you'll need to know to shoot accurately. It also touches on field target competition. There are links to some of the better sites and forums as well as a collection of interactive demos.

This site helps anyone new to computers and anyone with a basic understanding of computers with a desire to learn more about the internal components of a computer. If you have a computer that you'd like to upgrade but don't know where to start, this is a good site for you.

This site is for those who want to begin racing karts but don't fully understand how the various parts work. It's mostly interactive demos that show how the various parts of the kart work.
---
Click HERE to visit a friend's new car audio tech site.
---
| | | |
| --- | --- | --- |
| | | |

&nbsp
&nbsp
&nbsp
&nbsp
&nbsp
&nbsp
&nbsp
&nbsp
&nbsp
&nbsp
&nbsp
&nbsp
&nbsp
&nbsp
&nbsp
&nbsp