---
Linear Actuators:
Linear actuators are used to move things such as amp racks. They generally consist of a DC motor connected to a screw drive through a set of gears. The screw drive is set inside of a tube which also has screw threads along the inside of the tube. When the motor turns, the screw turns inside the tube and (since the screw is firmly attached to the housing the screw can not move) the tube is moved in or out (depending on the direction of the motor's rotation). To reverse the direction of the actuator, you simply reverse the polarity of the electrical connection on the actuator.

---
Sample Wiring Diagram
This diagram shows a simple wiring diagram that will allow you to manually switch power in either direction of the actuator travel. The switch should be a 'momentary on' type of switch that has a spring to return it to the center 'off' position.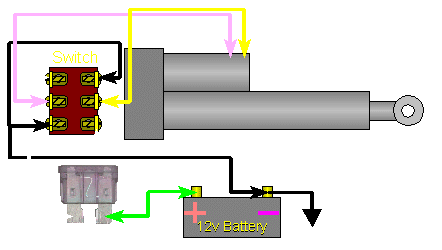 ---
Limit switches:
Some actuators have internal limit switches. These switches will stop the actuator from travelling outside of its design limits. These limit switches will NOT stop the actuator if whatever you're trying to move runs out of room/travel before the actuator reaches its maximum travel. If the moving pieces need to stop before the actuator reaches its limit of travel, you should add some safety/limit switches of your own. If the actuator has no limit switches, the actuator may try to spin the output shaft if it's driven past its design limits. You should always monitor the object(s) being moved when the actuator is activated. When building your system, keep in mind that linear actuators are easily capable of ripping apart amp racks or anything else that isn't properly designed.
Specifications:
Actuators are available in lengths of travel from just an inch or two (like the actuators used for electric locks) to 36 inches or more. They are also available in different voltage ranges but the 12 volt versions are generally used in car audio systems. They are also available in different 'weight' ratings from 50 pounds to more than 500 pounds. The 'weight' rating tells you how much force the actuator can safely produce.
---
You May Be Interested in My Other Sites
This site was started for pages/information that didn't fit well on my other sites. It includes topics from backing up computer files to small engine repair to 3D graphics software to basic information on diabetes.

This site introduces you to macro photography. Macro photography is nothing more than the photography of small objects. It can take quite a while to understand the limitations associated with this type of photography. Without help, people will struggle to get good images. Understanding what's possible and what's not possible makes the task much easier. If you need to photograph relatively small objects (6" in height/width down to a few thousandths of an inch), this site will help.

If you're interested in air rifles, this site will introduce you to the types of rifles available and many of the things you'll need to know to shoot accurately. It also touches on field target competition. There are links to some of the better sites and forums as well as a collection of interactive demos.

This site helps anyone new to computers and anyone with a basic understanding of computers with a desire to learn more about the internal components of a computer. If you have a computer that you'd like to upgrade but don't know where to start, this is a good site for you.

This site is for those who want to begin racing karts but don't fully understand how the various parts work. It's mostly interactive demos that show how the various parts of the kart work.
---
Click HERE to visit a friend's new car audio tech site.
---
| | | |
| --- | --- | --- |
| | | |

&nbsp
&nbsp
&nbsp
&nbsp
&nbsp
&nbsp
&nbsp
&nbsp
&nbsp
&nbsp
&nbsp
&nbsp
&nbsp
&nbsp
&nbsp
&nbsp