---
---
Crossover Basics
A crossover is a filter. Passive crossovers use capacitors and/or inductors in between the amplifier and the speaker to block/pass different ranges of frequencies (e.g. block the bass from the mids, block the bass and mids from the tweeters, block mids and highs from the woofers...). Passive crossovers allow different types of speakers (woofers, mids, tweeters) to be driven from a single full range amplifier and will only allow the proper frequencies to go to each individual speaker. Electronic crossovers use op-amps to divide up the frequencies. Electronic crossovers go in the preamp line before the amplifier.
Crossover Rolloff:
Crossover rolloff (or slope) describes the rate which the audio level increases/decreases per octave as the frequency increases/decreases. It is usually given as a number (6, 12, 18, 24...) of dB per octave. Electronic crossovers commonly have a 12dB/octave slope. This means that every time the frequency of the audio signal is changed by a factor of 2 (one octave), the level of the audio signal will change by 12dB.
Graph Legend:
---
| | | |
| --- | --- | --- |
| Cyan | = | 6dB/octave |
| Red | = | 12dB/octave |
| Green | = | 18dB/octave |
| Violet | = | 24dB/octave |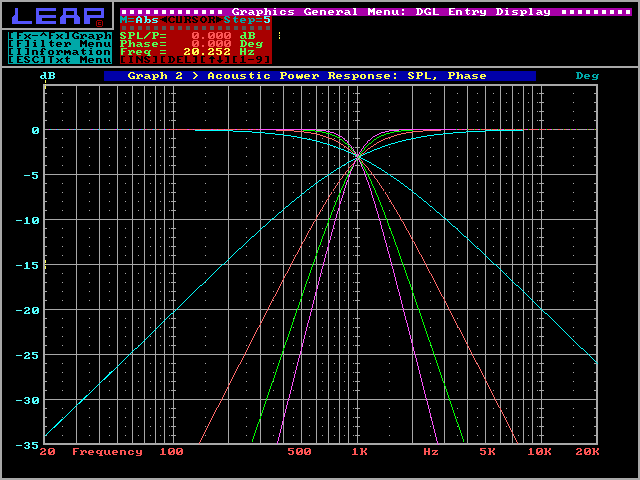 The diagram above shows both high pass and low pass crossover filters with the 4 most common slopes. The crossover point is the frequency at which the level of the signal is 3dB down (for a Butterworth alignment - to be discussed later) from the level of the pass band (the crossover point is about 1000hz in this diagram). The pass band is simply the part of the audio band which is unaffected by the crossover's filters.
---
You May Be Interested in My Other Sites
This site was started for pages/information that didn't fit well on my other sites. It includes topics from backing up computer files to small engine repair to 3D graphics software to basic information on diabetes.

This site introduces you to macro photography. Macro photography is nothing more than the photography of small objects. It can take quite a while to understand the limitations associated with this type of photography. Without help, people will struggle to get good images. Understanding what's possible and what's not possible makes the task much easier. If you need to photograph relatively small objects (6" in height/width down to a few thousandths of an inch), this site will help.

If you're interested in air rifles, this site will introduce you to the types of rifles available and many of the things you'll need to know to shoot accurately. It also touches on field target competition. There are links to some of the better sites and forums as well as a collection of interactive demos.

This site helps anyone new to computers and anyone with a basic understanding of computers with a desire to learn more about the internal components of a computer. If you have a computer that you'd like to upgrade but don't know where to start, this is a good site for you.

This site is for those who want to begin racing karts but don't fully understand how the various parts work. It's mostly interactive demos that show how the various parts of the kart work.
---
Click HERE to visit a friend's new car audio tech site.
---
| | | |
| --- | --- | --- |
| | | |

&nbsp
&nbsp
&nbsp
&nbsp
&nbsp
&nbsp
&nbsp
&nbsp
&nbsp
&nbsp
&nbsp
&nbsp
&nbsp
&nbsp
&nbsp
&nbsp